PIN IT: Save for later!
---
Price Guide:
$ – under $50
$$ – $50-$100
$$$ – $100-$200
$$$$ – $200+

---
Best Contemporary Eco-Friendly Dresses From thought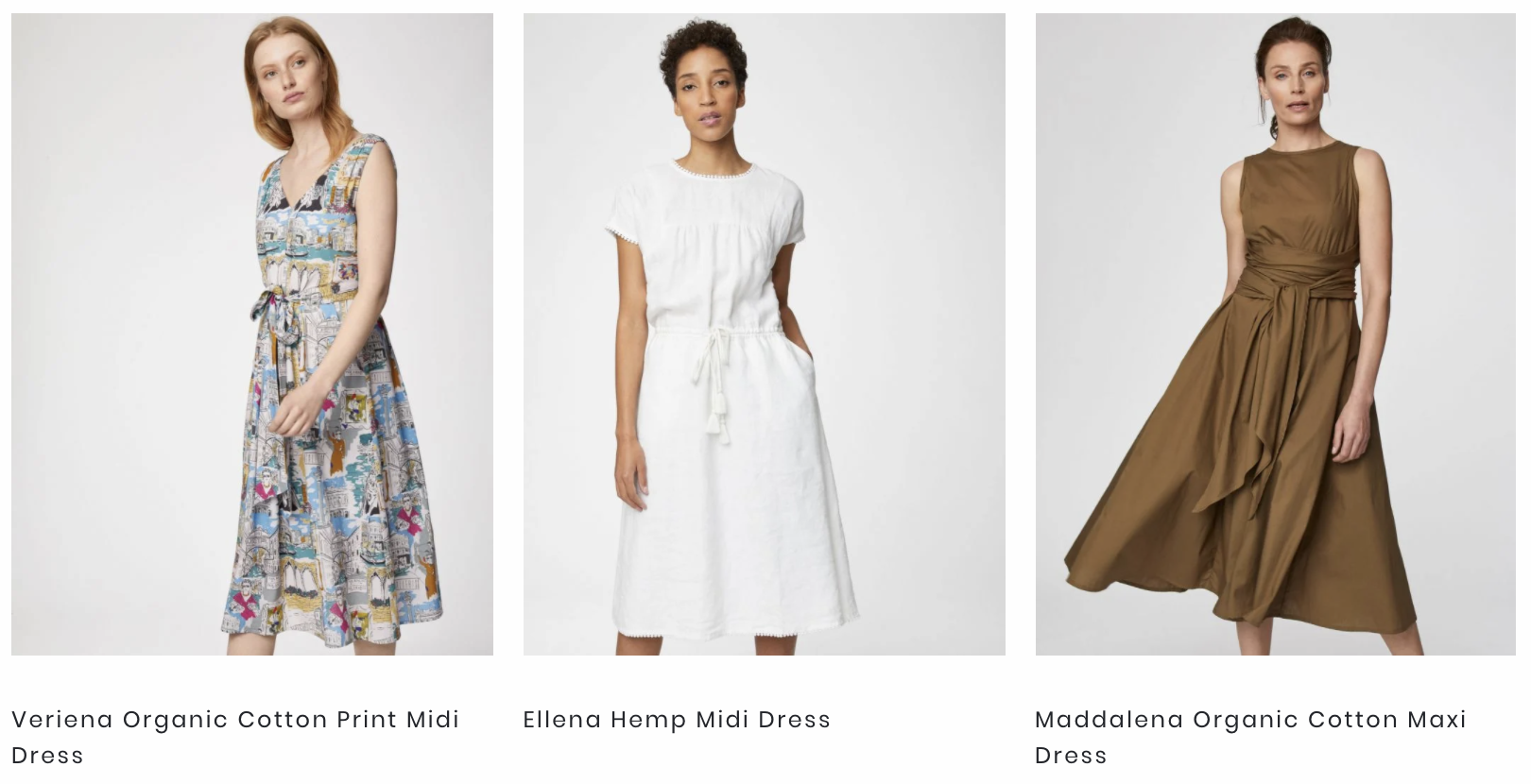 Description: thought is an eco-fashion brand that is committed to exist for the long-run. The reason? To show that there are more sustainable ways to live, dress and be. They create pieces that are not only sustainable and ethical but also capable of sparking others to think and live more sustainably.
ETHICS:
Their dresses are made from organic cotton, bamboo, Tencel, modal, and hemp.
Their dyes are Azo-free – a harmful carcinogen.
They use zero-plastic packaging, GOTS-certified organic cotton, vegan glue, 100% biodegradable garment bags, and organic cotton labels
95% of their collection is PETA-approved.
98% of their packaging is recyclable.
They are members of the Ethical Trading Initiative (ETI), a leading alliance of companies, trade unions and NGOs that promotes respect for workers' rights around the globe.
They are transparent! You can download a detailed ebook that outlines their entire design and production process on their "Our Commitments" page.
PROS:
Their dresses are made from organic cotton, bamboo, Tencel, modal, and hemp.
You can shop by price, print type, color, length, sleeve length, style, size, or even type of sustainable fabric.
Their collections extend beyond women's fashion. They carry men's clothing, loungewear collections, as well as home and beauty items.
CONS:
They have a specific "contemporary" style that might not be for everyone because of the abstract designs.
PRICE RANGE: $$
Best Eco-Friendly Plus-Size Dresses From Fauxgerty
Description: Fauxgerty empowers women through conscious shopping. They create beautiful pieces that can be worn with the closet you've already built. Our favorite part about Fauxgerty is that they sample each piece in multiple sizes to ensure the fit looks stunning in all body types – from sizes 00 to 24!
ETHICS:
They use vegan leathers and suedes.
They rescue leftover fabric to create pieces in vibrant colors and patterns. This process has upcycled thousands of yards of fabric.
They use Certified Organic Cotton.
PROS:
Most of their vintage fabrics cannot be replaced. That means that most colors and prints are exclusive!
They have a wide range of floral and contemporary dress designs.
All of their clothing is designed and sampled to look sexy and attractive in all body types – from sizes 00 to 24!
They always have new designs because they are constantly using upcycled materials.
CONS:
Many of their items get sold out quickly which can be very frustrating. But their official response to this issue is: "Because we upcycled vintage fabrics, many of our pieces are made in limited runs. While our fabrics are seasonal, our silhouettes are not."
PRICE RANGE: $$
Best Floral Sustainable Dresses From The Reformation
Description: The Reformation's main goal is to bring sustainable fashion to everyone. Even during tough times like the COVID-19 crisis, their business focus is to put people first and to protect jobs.
ETHICS:
They use sustainable materials like Viscose, Tencel, organic cotton, recycled cotton, and linen.
They aligned their sustainability framework with the United Nations Sustainable Development Goals (SDGs) to make sure they're tackling the most important issues like climate change and economic inequality.
They offset their carbon footprint by 100% and always try to find better materials, factories, and operations to keep their footprint as low as possible.
They let you buy climate credits to support Gold Standard verified projects through NativeEnergy.
Their items are 100% water-neutral and they are constantly trying to balance their entire water footprint.
You can find their annual in-depth sustainability report on their website under the "About" section.
PROS:
Wide range of sustainable women's apparel including bridal, jeans, and even intimate collections.
Many designs suitable for summer and spring fashion because they are floral.
They offer petite and plus-size collections.
They always have free shipping, returns, and exchanges with no purchase minimum.
You can shop by price, print type, color, style, size, fabric, body type, or occasion.
CONS:
They have a specific "cute and pretty" style that might not be for everyone.
PRICE RANGE: $$$
Best Casual Fair Trade Dresses From Mata Traders
Description: If you love an everyday dress that makes you feel free, you'll love the dress collections at Mata Traders. They specialize in fair trade dressmaking for a range of occasions and body types.
ETHICS:
All items are made by artisans in India and Nepal and provide a stable source of income for families in economically disadvantaged communities.
Mata Traders trains and employs hundreds of artisans in marginalized communities, with a focus on gender equality and empowering women.
Mata Traders is heavily focused on the sustainability of the lives that produce high-quality, artisan fashion. They even have social workers on staff that assist the artisans in addressing their personal needs – everything from opening a bank account to situations of domestic violence and dealing with HIV/AIDS.
PROS:
Every dress is crafted with traditional techniques that date back centuries.
All dresses are handmade and utilize techniques like hand embroidery, block printing, jewelry making, and screen printing.
You can shop by trend, occasion, body type, size, and color.
CONS:
They do not have as extensive environmental sustainability commitments as the other brands in this article because Mata Traders is more focused on fair trade production.
PRICE RANGE: $$$
Best Affordable Dresses From ThredUp
Description: ThredUp is the world's largest online thrift store. This means that you can find all types of styles, sizes, and pieces at an affordable price. If you want to shop big fast fashion brands like H&M and Forever 21, it's better to buy secondhand so that your purchase makes less environmental impact compared to buying directly from those brands.
ETHICS:
Allows you to buy affordable big fast fashion brands secondhand to keep the items out of a landfill.
PROS:
You can shop for clothing, accessories, athletic, bags, purses, denim, jewelry, men, women, shoes, swim, and outerwear.
You can shop by size, brand, color, price, material, condition, style, skirt length, occasion, and neckline.
CONS:
It's difficult to check the environmental and social ethics for each item or brand.
Their return policy is a bit of a hassle and has many requirements including a $1.99 restocking fee.
PRICE RANGE: $
PIN IT: Save for later!